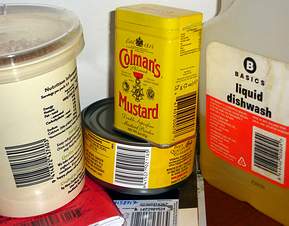 Basics Liquid Dishwash is a very cheap dishwashing liquid sold in New Zealand
Who Manufactures it
Edit
Unknown. The Distributor is General Distributors, owned by Foodlands Australia, owned by http://www.progressive.co.nz/
Where it is manufactured
Edit
Manufactured in New Zealand.
Sustainability
Edit
The bottle is TYPE 2 plastic.
How much it costs
Edit
2 nzd (1 euro in March 2006)
External links
Edit
Progressive enterprises owners of the BASICS brand.
http://www.woolworths.co.nz/ImageServer/product_images/big/9414742025824.jpg
back to the Main Page
Ad blocker interference detected!
Wikia is a free-to-use site that makes money from advertising. We have a modified experience for viewers using ad blockers

Wikia is not accessible if you've made further modifications. Remove the custom ad blocker rule(s) and the page will load as expected.