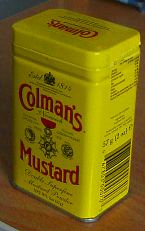 Colman's Mustard has a UPC barcode imprinted on the tin packaging. It is the first entry in the Main Page of the Barcode Product Database.
The tin pictured has a use-by date of Feb 2007 and contains 57 grammes of mustard powder. You can mix this ground mustard with water to make a hot mustard, or with vinegar for a milder mustard. The ingredient list written on the tin contains only one entry: Mustard Flour.
Who Manufactures it
Edit
The Tin says: Produced by Colman's of Norwich Carrow, Norwich, NR1 2DD, England Colman's exists since 1814, when Jeremiah Colman produced his mustard in Norwich, England. It is now manufactured by Van den Bergh Foods Ltd, Crawley, West Sussex, UK. This Brand is owned by the Unilever multinational corporation.
Where it is manufactured
Edit
(and under what social conditions, with which materials)
Sustainability
Edit
(does is contain genetically modified ingredients?)
How much it costs
Edit
(in the various countries)
External links
Edit
Ad blocker interference detected!
Wikia is a free-to-use site that makes money from advertising. We have a modified experience for viewers using ad blockers

Wikia is not accessible if you've made further modifications. Remove the custom ad blocker rule(s) and the page will load as expected.